What do you get when you combine a political party leader in a nuclear weapons state and vocal support for nuclear disarmament? The answer, as revealed over the past week in the United Kingdom, is a load of controversy, much back-stabbing, hilarious satire and a taster into the hurdles that disarmament advocates must be prepared to face in years to come.
Jeremy Corbyn, the newly-elected leader of the UK's Labour Party, recently restated his fierce opposition to nuclear weapons and the proposed renewal of Trident. Corbyn is a long-standing member of the Campaign for Nuclear Disarmament (indeed, the group backed his political campaign) and he is the current Co-Chair of the UK branch of Parliamentarians for Nuclear Non-Proliferation and Disarmament (PNND). Corbyn
is opposed to nuclear weapons in principle, and he vows that he would never use nuclear weapons were he the UK's Prime Minister, even for purposes of retaliation.
Jeremy Corbyn, UK Labour leader, supports nuclear weapons abolition.
When asked if he would push the 'nuclear button,' Corbyn's answer was pretty unambiguous.
"Would anybody press the nuclear button? Nuclear weapons are weapons of mass destruction that take out millions of civilians."
Not only does Corbyn oppose the
use
of nuclear weapons, he also goes the whole hog to oppose the possession of these weapons and to sing the merits of nuclear abolition. As you can see from the quotation above, Corbyn deplores the destructive force of nuclear weapons, and he has also questioned the sense of investing millions in weapons which are meant to never be used. He sparked further controversy when he pointed out the fanciful utility of the nuclear deterrent by reference to 9/11: America's substantial supply of nuclear weapons did not deter the September 11 Al-Qaeda extremists. Corbyn wants the UK to respect its obligations under the Non-Proliferation Treaty by not renewing Trident, and to this end he also supports the creation of an international nuclear weapons convention.
In Corbyn's words:
"I am opposed to the use of nuclear weapons. I am opposed to the holding of nuclear weapons. I want to see a nuclear weapons-free world. I believe it is possible."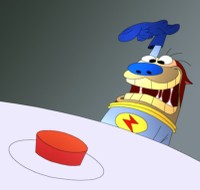 Can the UK Prime Minister be trusted if he won't use nukes?
Voicing such discontent with the UK's nuclear weapons status quo has caused nothing short of an uproar. Defence big-wigs dismissed Corbyn's comments as idiotic.
Right-wing commentators slammed his views, with Simon Heffer for The Telegraph professing to exercise restraint but still joyously branding Corbyn a "fellow traveller of revolutionaries" obsessed with a "lunatic" pacifism. In a similar vein, Leo McKinstry (formerly from Labour) described Corbyn as an "unreconstructed Trotskyite."
Indeed, Corbyn also faced opposition from those on the left, including his own Labour Party caucus. Seven members of the shadow party criticised Corbyn: the (shadow) defence secretary, home secretary (who threatened to resign), business secretary, foreign secretary, justice secretary, health secretary and a defence minister. Hilary Benn, the foreign secretary, remarked in a revealing statement that, "I think a British PM has to have that option [of using nuclear weapons] and the whole purpose of the deterrent of course is trying to deter a potential enemy because they're not sure what you're going to do and that puts them off."
David Cameron used the opportunity to preach the benefits of the UK nuclear deterrent, calling it a "vital insurance policy" which protects the nation in a "dangerous world." Corbyn's reluctance to use nuclear weapons, according to Cameron, was proof of a sinister attempt to undermine national security. Corbyn clearly could not be trusted with the most important duty of government - protecting its citizens. Comedian Mark Steel wrote a terrific spoof on this exchange, provocatively entitled "There must be something wrong with Jeremy Corbyn if he doesn't want to cause a nuclear holocaust." How could you possibly respect a man who wouldn't leap at the chance to blow up hundreds of thousands of people, Steel wondered? What an extremist! I recommend reading the whole article which is just hilarious; here's an excerpt to whet your appetite:
Next week [Corbyn] should be exposed even more, with an interviewer asking: "Would you personally, Mr Corbyn, attack Putin with a chainsaw? Answer the question, Corbyn, yes or no? If someone mocked you at a United Nations conference, would you sever his head and shriek like a hyena as you smeared his blood on your bare torso or can you not be trusted with our security?
"What about crocodiles, Mr Corbyn, would you release them at the French if necessary? If you knew a wizard would you get him to turn the Iranian ambassador into a centipede, or are you too soft?
This is just one more consequence of Labour choosing an extremist as a leader. It's such a shame they didn't select a moderate who would be prepared to press the button, such as Kim Jong-Un...
Unfortunately for Corbyn, his political comrades and unionist allies weren't as willing to come around to his viewpoint as he had hoped. Sensing the discomfort within the Labour party, Corbyn suggested they take a vote on the Trident issue. He wanted the party to discuss the issue and reach a conclusion together, however, he made no mistake that he would be trying to persuade his colleagues to back disarmament. The vote never took place, however, as the trade unionists (in particular Len McCluskey of Unite) opposed the plans and persuaded party members to reject the vote. The unionists' concern was simple: remove nuclear weapons and people will lose their jobs.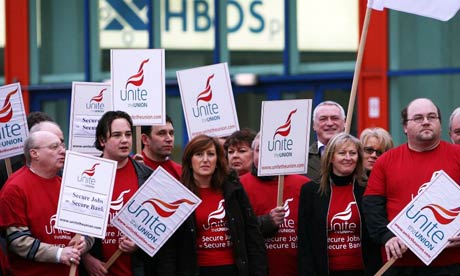 Trade union Unite fears nuclear industry workers would lose their jobs.
Image source:
The Guardian
.
It's a legitimate concern, especially in tough economic times. But if we want this world to become safer for everyone, we supporters of disarmament are going to have to convince the unionists that it is in their interest to join the movement for disarmament. The unionists will want answers, and we need to be able to provide them. Perhaps jobs will be created overseeing the phased disarmament of weapons, perhaps more jobs will open up in other areas of conventional security and counter-terrorism efforts. Moreover, people must be convinced that although, as with any policy change, there will be adverse impacts for some people in the short-term, the long-term gains of creating a safer, more just international system override any short-term consequences. Easy enough for me to say when I'm safe in the knowledge that I won't have to take a job in the nuclear industry anytime soon.
The Corbyn fiasco is far from over. Corbyn has so far failed to bring his supporters round to the cause of disarmament, but I suspect he won't quit trying. In the meantime, disarmament advocates would be wise to speak up and lend him some moral support. Thus far, Corbyn's comments and the response that has followed has given us some useful insights into the opinions of the British public and its political leaders. It is clear that there is a long way to go in educating people on the merits of nuclear disarmament. And campaigners must provide answers to questions which average people want to know but which campaigners - focusing on more abstract principles of peace and security - might inadvertently neglect to address: what happens to my job and how am I to live? We need a shift in mindset, but it is tremendously encouraging that Corbyn is not disguising his support for disarmament and that he is sticking to his guns. And what a fantastic way to get people in the United Kingdom and abroad thinking critically about the nuclear weapons elephant in the room.