New Zealand is not an egalitarian nation. Whether you're concerned about our levels of inequality, or whether you couldn't give a toss, one thing you must admit is that inequality exists in New Zealand. Although New Zealand does not experience the stark contrasts of wealth and poverty as do many developing countries, we are lagging in the middle of the OECD statistics on income inequality, and we are kidding ourselves if we unashamedly declare ourselves to be egalitarian. The top 1% of adult New Zealanders are worth around $4.5 million each and hold around 20% of our nation's wealth. The bottom 50% - including a disproportionately large number of Maori and Pasifika individuals - own a measly 4% of our total wealth. Inequality is consistent across different age ranges, and males proportionately control more resources than females.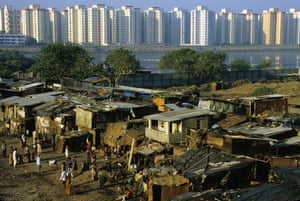 Whilst the inequality we experience in New Zealand is certainly not as severe as that experienced in countries like India, we are still not as egalitarian as we might like to believe.
Photo
by Viviane Moos for The Guardian.
Kiwi journalist Max Rashbrooke is
concerned about these statistics. He's so concerned that he has researched and written two books on the subject, (Inequality: A New Zealand Crisis and the more recent Wealth in New Zealand)
and he has spoken at public gatherings about the country to advance a public conversation on inequality. (See my earlier posts on inequality.) In the process he has got much flak, recently being called a "dangerous communist" and an "obsessive leftie" amongst other endearing descriptors. The criticism is ratcheting up - at least from the Stuff comments crowd - as Rashbrooke moves his focus from inequality in general to squarely target the wealthiest people in society. It is by focusing on the influence of the richest people, Rashbrooke maintains, that we can help reduce our levels of inequality to more acceptable levels. Cue much unhappy muttering and various outbursts of defiance from those who consider themselves to fall into this category.
Rashbrooke does not claim that inequality is bad per se. Inequality of some degree in society is inevitable and even desirable. Wage differentials give us something to work for; the possibility of improving our material existence acts as an incentive for us to take risks, work hard and make a decent contribution to society. So far so good. But it's when the gap between rich and poor gets too wide when Rashbrooke gets worried. Why so? Because wealth matters. Wealth gives us a sense of security and allows us to plan for the future. It gives us opportunities and a sense of belonging. It allows young people to go to university safely knowing that, if they can't find a suitable job after graduation, they can always call up the olds and ask for some assistance. It allows older couples to withstand the trials and tribulations that life throws at them; so when one partner has to quit work to look after aging parents, the couple's future is not permanently jeopardised and things are just a little more difficult than usual for the intervening time. Wealth is when you are not just getting by, you are flying by and there's very little that will ever set you back.
Academic Robert Wade (left) and journalist Max Rashbrooke. The pair addressed a large audience at the Royal Society of New Zealand last Thursday evening.
As well as providing individuals with more personal opportunities, wealth allows individuals to hold greater sway in society. They have more economic power and political clout: a greater ability to shape policies and to construct society in the way that they desire. Their influence is apparent in the way that we design our cities. As Rashbrooke noted, poorer suburbs are generally those areas of town where the wealthy prefer not to live and where the poor are thus forced to occupy; so if we want to think more about the impacts of urban planning on the poor, it pays (literally) to start by considering the choices of the wealthy.
It is possible that inequality would have little detrimental effect on the poor, for instance, if wealthy people used their influence to advocate for policies which would benefit the most disadvantaged in society. Yet unsurprisingly, the wealthiest people are more likely to champion causes which benefit them and others like them the most. Professor Robert Wade of the London School of Economics, speaking with Rashbrooke at a recent Wellington event, pointed to a study undertaken throughout the OECD which revealed that those OECD countries accepting the highest levels of private (not public) donations for political campaigns are the same countries which have enacted the fewest policies of social protection. Additionally, these countries (the United States foremost among them) have noticeably low voter turnouts. Conversely, some European countries sporting substantially publicly-funded political campaigns enjoy high voter turnouts and policies more targeted towards the poor.
Max Rashbrooke reckons we can - and must - tax the rich more.
Source
.
Turning back to the New Zealand context, Max has done some digging into how the richest people in New Zealand accumulate their wealth. 50% of wealth derives from property, 20% from business investment, 15% from financial assets and a further 15% from miscellaneous possessions. Farms are a key source of wealth for many New Zealanders. For Rashbrooke, part of the solution lies in taxation. Our current tax system does not go far enough, he believes, and he argues that gifts and inheritances ought to be taxed, and that we should implement some form of capital gains tax.
Increased government revenue raised through additional taxation might allow welfare benefits to be increased to help those currently struggling to make ends meet.
In Rashbrooke's eyes, taxation is not simply stealing from the rich under another name, rather it is a way to set in notion the traditional maxim that those to whom much is given, must themselves give much back. People don't get wealthy in isolation, Rashbrooke points out, they get wealthy thanks to the common pool of resources which supports them every step along the way. Individual merit can account for so much of the wealth that a particular individual earns, so an individual is entitled to spend some of the money earned however he or she pleases, yet but the common pool of wealth must be replenished in order that future generations can also benefit from it. If you take, so too must you give. Sounds fair in principle to me. But more importantly, as a reader, what is your opinion on the matter?